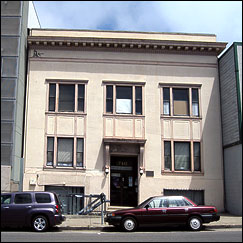 Hokubei Mainichi, one of two Japanese American newspapers remaining in San Francisco¹s Japantown and one of only two Japanese American daily papers in the continental U.S., was established in 1948 to serve the Japanese American population in the Northern California region. It is published five days a week in both English and Japanese.

The Post Street building that houses Hokubei Mainichi is one of the oldest buildings in Japantown, and was originally used as a Christian church or church annex. The Hokubei Mainichi was originally located on Sutter Street and moved to its current location in the mid-1970s. A new building called the J-Pop Center will be built on the site, and Hokubei Mainichi will be one of its tenants.
For nearly 60 years, Hokubei Mainichi has served as a relevant and vital news source for native Japanese speakers and all generations of Japanese Americans, providing content including local community news, state and national news, and international news from Japan.
Edited by JK Yamamoto, Hokubei Mainichi English Editor

CLOSE WINDOW