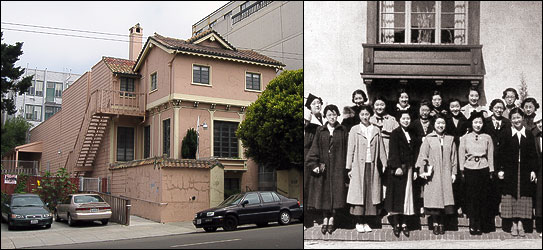 The 1830 Sutter Building embodies the legacy of the community building efforts of the Issei (first generation Japanese) women. In 1912 these visionary women founded an independent Japanese YWCA to provide social services for the women and girls of their community, and sought to establish a permanent home for the organization in the early 1920s. Barred from acquiring property due to the 1913 Alien Land Law, the Issei women received assistance from the San Francisco YWCA, which agreed to purchase the property in trust for the Japanese YWCA with additional funds from the Japanese community. After internment, only a few of the women who had founded the Japanese YWCA returned to San Francisco and the knowledge of the land trust was almost lost.

In 1932, architect Julia Morgan was commissioned to design the present building when the property's original structure was destroyed. The 1830 Sutter Street Building now includes a dormitory, meeting rooms, offices, a kitchen and an auditorium. The auditorium features a genuine Noh theater stage, the only one in the western United States, which was once used by to perform classical Japanese dramas. A tokonoma, a special alcove adjoining the stage, was used for tea ceremony. The ranma, decorative wooden panels below the ceiling, were designed by artist Chiura Obata.
The San Francisco YWCA attempted to sell the property in 1996, but academic researchers and community activists were able to piece together documents of the original trust agreement. The SF YWCA refused to recognize or honor the trust and a lawsuit followed. The Soko Bukai (an organization of Japanese Christian Churches whose members formed the original Japanese YWCA) and activists within the Japanese American community fought for the enforcement of the trust and to secure the property for the Japanese American community. The Soko Bukai settled the lawsuit against the YWCA in 2002, which enabled Nihonmachi Little Friends (NLF) to purchase the property.
Nihonmachi Little Friends (NLF) is a private, nonprofit, childcare organization with a mission to provide Japanese/English bilingual, multicultural, and educational childcare for preschoolers through elementary school-age children. NLF was founded in 1975 by a group of parents, educators, and community activists who were committed to providing high-quality, affordable childcare services that foster children's self-esteem, cooperation and confidence. NLF operates programs at four separate locations; three of the programs are within Japantown.
WEB LINK: www.nlfchildcare.org