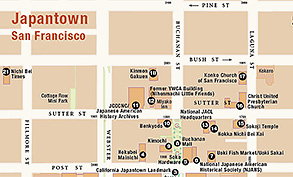 San Francisco's Japantown
Founded in 1906, San Francisco's Japantown was the first Japanese American community to settle and establish itself in the United States. As a community, the neighborhood has continued to evolve, and efforts continue to ensure support for the future viability of the greater Japantown neighborhood for the next 100 years.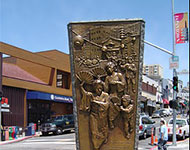 JAPANESE AMERICAN HISTORY WALK The San Francisco Japantown Japanese American History Walk integrates interpretive signage, historical business/organization building plaques, and Japanese American History Walk icons highlighting points of historical and cultural significance to the Japanese and Japanese American community throughout San Francisco's Japantown (Nihonmachi). A public project funded by the State of California Proposition 40 Bond measure (The California Clean Water, Clean Air, Safe Neighborhood Parks, and Coastal Protection Act of 2002), it creates permanent historic and educational markers in a combination of private and public areas of San Francisco's Japantown. The History Walk engages, educates and enriches visitors, making Japantown a place for discovery, exploration, validation, inspiration and recognition. For an online version of the SF Japantown History Walk, go here.